DRAFT * DRAFT * DRAFT * DRAFT * DRAFT * DRAFT * DRAFT * DRAFT



PART 2 - FREE SPEECH WORKAROUND and OTHER NOTES
Carrollton Avenue Corridor - New Orleans, LA

FREE SPEECH CHALLENGE WORK AROUND:


If there is a legal challenge to the Homeless being stopped, the Security District SUV's could
have the decals or stickers as shown here. And simply just park on the grass or the neutral ground at strategic locations just looking to see if they walk in traffic and cause a traffic safety hazard. Just having the off-duty officer sitting there parked, will cause the panhandler revenue to go down. This is another key point in reducing panhandling revenue. Overtime, the Homeless and Panhandlers will go someplace else or better do something else that has a more reliable revenue stream. If the Security Patrol has to sit there for 1 to 4 hours on the first few weeks, so be it. The panhandlers will see their own revenue drop significantly almost immediately by just parking in front.

A much larger bumper stickers (or larger perforated decals that are see-thru from inside the SUV) on the back and on sides of the Security Districts SUV's could send a message to the public by asking the questions seen in the photo's as follows:



PROPOSED PHOTOS (Just in case of a legal challenge)

: large or small.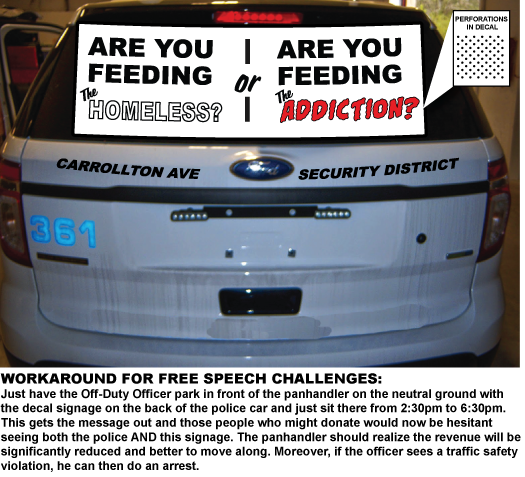 ---


THREE (3) BIRDS WITH ONE (1) STONE:
1. Just being parked in front of panhandler negatively affects revenue of the panhandler.
2. The Large Decal on the back of the Patrol SUV also get the message out and in a targeted
manner as that specific vehicular traffic can see the message.
3. The Off-Duty Security Officers can also sit (or park there) and do their paper work within the SUV..

NOTE: The "OTHER SIGN" Free Speech Information message regarding the Homeless has worked quite effectively in parts of Michigan via the Facebook Group, West Michigan Hardly Homeless. Volunteers simply have their own signs educating drivers and stand in front of the panhandlers at intersections. Thus, the Homeless move on. Die Hard Addicted Homeless may stay longer, or try many times to return to same spot, but they too, eventually move away.


---





ORGANIZED KIDS FUNDRAISING or CHILD ENDANGERMENT?


Some street intersections have groups of kids in sports uniforms, e.g. basketball or cheerleading, that are organized by some chaperone. Yet, do you or anyone know who these organization really are? These kids are in the streets running around and clearly the chaperone cannot see them all and the drivers cannot see these small kids either. This could be considered child endangerment. Why can't the Mayor's and the Federal Disadvantage Business Enterprise (DBE's) dollars be used to train these chaperones to actually organize a worthwhile service or product (e.g. bake sale, car wash) for these kids as opposed to asking for another "handout"?


FIREMEN FUNDRAISING and ELECTION CAMPAIGN WORKERS:
For election campaign workers, this is just a plain traffic safety issue as they are clearly trying to cause a distraction that is dangerous. If drivers can't use a cell phone in a school crossing zone during school rush hours, why should you have lots and lots of people, waving banners, asking you to honk your horns, and jumping up and down in the street intersection distracting drivers? Isn't there a thing called "distracted driving"? Hence, what are the election campaign workers trying to do to drivers? Distract drivers?

Next, Firemen should, of all people, know better about safety, and not put themselves and drivers at risk walking up and down the street asking for money. There are plenty of ways to fundraise that is more effective and safe than panhandling at busy traffic intersections.




MORE NOTES:


Some might say there could a PR backlash, and perhaps rightfully so in Orleans Parish. But I have emailed the same proposed advertisment to many of the local chartities and businesses along Carrollton Ave with only one person who simply didn't know the Homeless have been offered jobs, food and shelter on a regular basis but always turn the offers down. Moreover what do we have to lose as customers, and even these Homeless Advocates, avoid our areas anyway because of crime that is directly related to the Homeless and Panhandlers dealing with drug dealers to support their addictions? e.g. The homeless shelters around Oretha Castle Haley is an excellent example.

Notice how the Oretha Castle Haley area is virtually all non-profits, or funded by some foundation or government money, as opposed to some mom and pop's life savings.

Second, notice how the I-10 is busy in the morning and evening from all those living in Jefferson Parish commuting into Orleans Parish to work.

Third, notice how there are no panhandlers in Jefferson Parish.

Fourth, notice how there are no panhandlers at a busy intersection where there is a business association. e.g. Magazine St Merchants Assoc, Maple St Business Association, Freret St, Prytania St, Oak St. Business Assoc, Riverbend Businesses, Harrah's casino, and directly in front of the Convention Center or Riverwalk. Also notice how there are no panhandlers at school crossing zones.


---
PART 1 - SWEET SPOT, RUSH HOUR, OFF-DUTY SECURITY PROPOSAL
DRAFT * DRAFT * DRAFT * DRAFT * DRAFT * DRAFT * DRAFT * DRAFT
Last Updated: Saturday, April 4, 2015 10:24 PM