SUMMARY of SWEET SPOT, RUSH HOUR, OFF-DUTY SECURITY COST PROPOSAL:


1. Just 12 hours a day could make an impact on panhandling because most of the panhandling has to be done generally during the daytime, while there is sunlight and the two rush hours, morning and evening. There is more traffic in the afternoon than morning due to the school rush hour being close to the evening rush hour. Schools only run 5 days a week anyways, same for most businesses.




KEY POINT (The most critical of hours):


If we could just knock out the afternoon and evening rush hours, from 2:30pm to 6:30pm, 5 days a week, I think that would make a significant impact. If we could get 60 businesses, to pay $150/month, we would generate $9,000 per month. And at four (4) hours per day, 5 days a week and 2 officers = 40 hours/week. At $50 / hour, it will be $2000/week. ($104,000/year) or $8,666/month. Knocking out the school hours and evening rush hours would make an impact and that's just four (4) hours / day. For sixty (60) businesses, that could be 15 businesses at each of the four corners of the I-10 and Carrollton intersection. If other intersections are included, e.g. South Carrollton at S Claiborne and S Carrollton and Canal/Bienville, that would increase the area, but also increase the number of participating businesses and reduce the number panhandlers all along the Carrollton Ave area and likewise crime itself. We could reduce monthly fee, or increase hours. But better to increase hours and then when panhandlers disappear and crime is less, could reduce hours and hence fees.

Hire NOPD · The City of New Orleans (CLICK on FEES for NUMBERS)
Tier 1, Patrol Officer, at more than 100 hours per Pay Period, is $32.38.

Note: Other forms of compensation is general prohibited as stated in the below quote


1. Customers are prohibited from providing any compensation, either cash or in-kind, including bonuses or gifts, beyond nominal compensation in the form of food or beverages in accordance with the Louisiana Ethics Code for public employees, to an NOPD member or the friend or relative of an NOPD member in exchange for any secondary employment services provided.
2. Nominal compensation in the form of food or beverages is permitted in accordance with the Louisiana Code of Governmental Ethics for public servants. Meals with a value of $57 or less may be accepted by members working secondary employment if consumed by the member on the premises during the shift being worked.
3. Any other compensation, including bonuses or gifts, must be provided through and documented by OPSE and must be in accordance with the Louisiana Code of Governmental Ethics.....
Please see reference: OPSE External Policy v3.0 for more details on compensation.

REASON: The police is supposed to function and act as a team to reduce crime. If officers are paid more on the Secondary Employment, they would have a financial incentive to not perform their Primary Employment at the best of the ability so as to benefit financially with Secondary Employment. Yet, here we are as businesses that are under a constant crime wave with no end in sight except excuses of "too busy with 911 calls to handle the non-violent items". Yet, do not the little problems grow into big problems? And are they little problems actually the RELIABLE CASH COW of criminals? Basically, Easy Money since the panhandlers are repeat customers as opposed to new customers?

FUTURE WORKAROUND TO ELIMINATE CONFLICT OF INTEREST?
Hence, is it possible to see the Carrolton Area as a whole and measure sales tax revenue that can be used to pay for "Primary" employment salaries and pay raises and likewise end "Secondary" employment?




$100/MONTH = 90 BUSINESSES


At 90 businesses (22.5 per side) at $100/month, could also generate $9,000/month to cover the same security patrols but a greater area.



$75/MONTH = 120 BUSINESSES


At 120 businesses (30 per side) at $75/month, could also generate $9,000/month to cover the same security patrols but an even greater area.



---





MORE ANALYSIS:


After a month or so, I believe a few of those 4-hour shifts can be moved around or split on some days. Perhaps on a random basis. For example, on some days, say Tuesdays and Thursdays, the patrol shift could move to the morning, 6:30am to 10:30am. Or on Tuesdays and Thursday, the patrol shift can be split in two smaller shifts, 6:45am to 7:45am and then from 3:30pm to 6:30pm on those same days. And perhaps on some weeks one of the 5 days can be moved to a Saturday or Sunday. A longer Friday shift, 2:30pm to 7:30pm might be a consideration.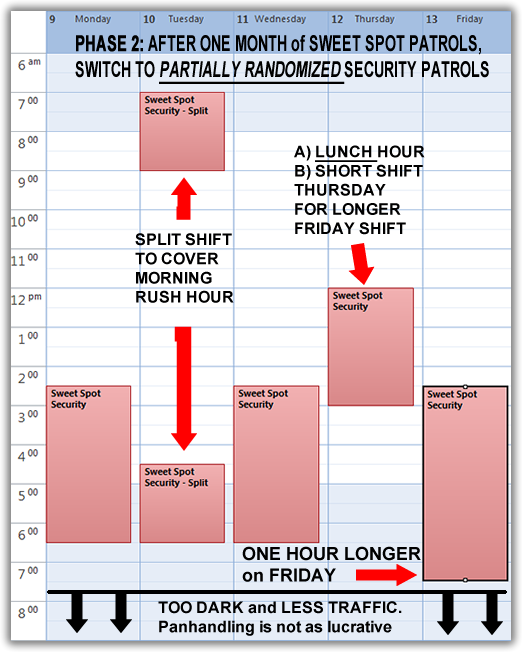 ---


KEY POINT:
- CREATING AN UNRELIABLE SOURCE OF REVENUE versus 24 / 7 BLANKET SECURITY:
The key here is to make the panhandler's source of revenue "unreliable" for a certain period of time. The panhandler should be thinking,
"Hmmm, I am not to sure I should go to this intersection as sometimes I get arrested. Or there are off-duty police watching and I don't want to take such a chance walking into the center or right lanes as that's obvious. Walking into the left traffic lane to get money is just as bad with a cop watching me. Let me choose some other place as there is only so much time I can panhandle at these intersections to make it worth my time and I don't like travelling from place to place not knowing if I will be watched or arrested. "

"The good panhandling times are all taken up. So now, it's like only 1:30pm to 2:30pm and from 6:30pm to 7:30pm. So it is like only 1 or 2 hours as it is either too dark or not enough car traffic, or both. And the morning rush hour, people need to get to work, on time, typically before 8am or 9am, so it's a shorter rush hour. It's not like the evening rush hour where the work day is done and there is more fexibility."
Currently, there is no fear of being arrested, or confronted by anyone or the police. Moving the off-duty shifts around, randomly or deliberately, can really get into the behavior of the panhandlers AND the "word" gets out to not to go to certain areas. And with no panhandlers around, the drug dealers and criminals will also not have a reliable source of revenue from these very same panhandlers and Homeless(Addicts) they sell to on a daily basis. Thus, another benefit in making panhandling an unreliable source of revenue as both the Panhandlers and the Drug Dealers in the area will be hopefully a lot less than what we see today from "unreliable revenue" as opposed to "blanket security".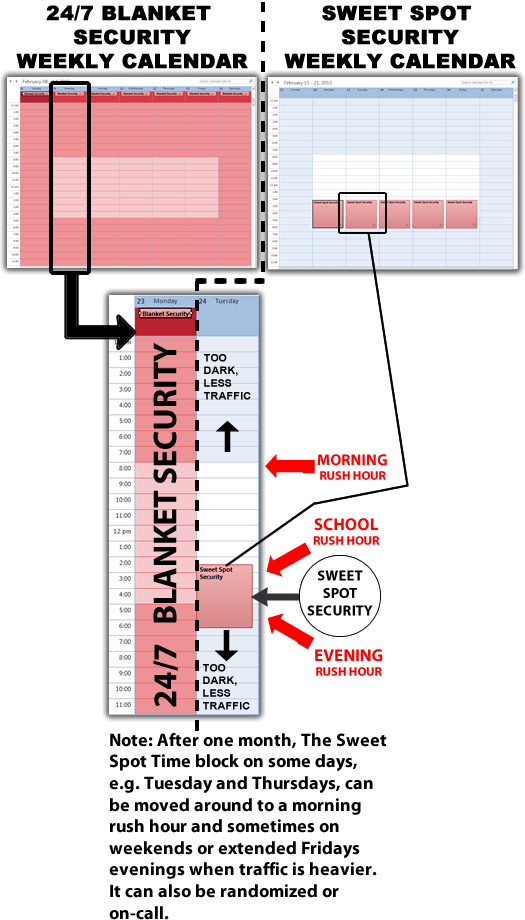 ---





PHASE II:


Say if there are no panhandlers around due to ultimately being unreliable (as opposed to say heavy rain?), what should the security patrol do?

OPTION A.
Clock out early and use unworked hours for other times during the day and week.

OPTION B.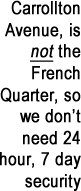 Park at Hot Spots Hang Outs like the Washington St. Canal wall near oak tree and Exxon Gas station, or Bus Stops or private parking lots. Let security's presence be known that suspicious activity like drug use and drug sales will get them arrested. Plus, since they can't panhandle reliably, they will have a harder time purchasing drugs or beer. So are they going to sit their, detox, dry out and become sober and drug free? Or will they move on?

NOTE:
If it's raining heavy and there are no panhandlers with unbrellas around, maybe the security patrol can change their schedule for that shift? Or move it to after the rain, or move to the next day, lunch hour shift as panhandlers move their shifts depending upon the weather as well. The security patrol should to do a swing by and check before clocking out early and moving their shift until after the rain stops, as that is how panhandlers also work.

---



PHASE III:





ON-CALL versus OFF-DUTY:


Perhaps we can get the costs for "ON-CALL" off duty police that could be at a cheaper rate (more hours on-call hours at a lesser rate) since, after a month or so of the security patrols, the panhandlers should be a lot less. Thus, we can give all the participating businesses a phone number to call if they see a panhandler as it should then be extremely rare to see a panhandler. (The businesses will not continue paying this extra fee with no visible results.) The hours could be less and the off-duty police can respond to other "calls" of just suspicious activity, as opposed to visible panhandling.
---



FINAL POINTS:


It's not perfect, but neither is 24/7 blanket security. Police cannot be everywhere all the time and even when they are, e.g. Mardi Gras, incidents, even with half a dozen officers 20 feet away, crime can still happen. However, this proposal goes after "repeat offenders" that are known and very visible at well known locations. Their sweet spot. And with more businesses, meaning more coverage area, e.g. 120 business, the monthly cost should go down, $75/month from $150/month. The coverage area would be ONLY those main streets and intersection. The patrol would only go into the residential neighborhood if there is clear reason, e.g. pursuit of a suspect, very suspicious activity one block away from main street. Otherwise, the patrol would stay on the main business streets, stop in the parking lots of the business and hot spots.